Cal Rice

Role:
Student, buffer player, gnome
Ability:
Super hearing
Played by:
Izaak Smith
First appearance:
New Kid
Calvin "Cal" Rice was the star player on Tower Prep's Gold buffer team and later became a gnome.
Before Tower Prep
Edit
Cal Rice's life was similar to how his life is at Tower Prep. Back home, he was the star athlete and liked the school he was at, as things came easy to him there. Cal, however, like everyone else, heard static one day and ended up at Tower Prep. ("Field Trip")
At Tower Prep
Edit
After arriving at Tower Prep, Cal Rice soon realized not everything was as simple as it seemed. He had trouble adapting, causing frustration in him, which made him put more effort in the school sport, Buffer, which he became a natural at.
Hazing the Newbie
Edit
Cal first runs into Ian Archer when Ian enters the buffer arena, and almost gets into a fight with him before Coach breaks it up. ("New Kid")
Cal is one of the favorite players of CJ Ward, who is a huge buffer fan. Later, when Ian is assigned to work study as Coach's buffer equipment manager, Cal continues to be belligerent and rude to Ian. After the two nearly come to blows several times, Ian joins the rival Red team to defeat Cal's Gold team. However, the Gold team continues to dominate. After the game, Ian offers a handshake to Cal, only to get spit on in response. ("Buffer")
Cal continues trying to get close to CJ and even demonstrates his dance moves for her in the cafeteria. He also attends the ill-fated school dance that CJ organized. ("Rooks")
Why I Came Here
Edit
Cal is paired by Headmaster with Ian on a class assignment in the forest. However, Cal has plans of his own, as he has brought a supply of food, which was discovered by Ian. When Cal and Ian hear Suki Sato's animal roars, he is the only one that knew it was Suki and Ray Snider, not an animal or Redfang, due to his ability. He also hears Gabe Forrest fall down a hill, which sprains his ankle. This cause Ian to leave and go check on him, allowing Cal to explore the woods on his own, in order to find what he is really looking for a gnome bunker. Ian runs into him right as he finds it, and they explore it together. When he and Ian are cornered by gnomes in the bunker, Ian is saved by Redfang, but Cal is left behind. In a final message over the radio, Cal tells Ian that "this is why I came here" and asks him to take care of CJ. The red-eyed gnome then faces him as a gnome helmet is lowered onto Cal's head. ("Field Trip")
After Becoming a Gnome
Edit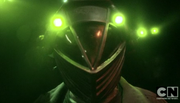 Cal suddenly returns to Tower Prep claiming to have no memory of being a gnome.
("Trust")
Cal's ability is a form of super hearing. He can hear things and tell where they originate from that normal human ears can not do. He demonstrates this ability during the field trip, by being able to tell that Suki was making the fake Redfang roars, Gabe falling, and being able to tell that Ian had a gnome transmitter in his bag. However his ability to sense the direction from which a sound originates is hampered by echoes in indoor areas. ("Field Trip")
Community content is available under
CC-BY-SA
unless otherwise noted.