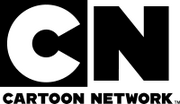 Cartoon Network
(Abbreviated as
CN
) is an American cable television network created by Turner Broadcasting. It airs a variety of television shows such as cartoons and live-action series aimed at a family-friendly audience.
Tower PrepEdit
Cartoon Network was the network that broadcast Tower Prep, a television series about the a group of teenagers trying to find a way to escape from a school they mysteriously entered in named "Tower Prep." In 2010, Cartoon Network aired the series Tuesdays at 9:00/8:00C. Originally they premiered with only one episode at 8:00/7:00C. However, for the final four episodes, they showed two episodes on one night.
Cartoon Network owns the rights to Tower Prep, but currently has no plans to produce a second season or continue it in any form.
Cartoon Network originally premiered Tower Prep on Saturday, October 16, 2010 right after the world premier of Scooby-Doo! Curse of the Lake Monster marketed as a "sneek-peek". The series "official" premier was Tuesday, October 19, 2010.