Cornelius Tower

Role:
Founder of Tower Prep
Played by:
David Smith
Matthew Thiessen (Middle-aged Cornelius Tower)
Cam Clarke (Voice)
First appearance:
Dreams
Cornelius Augustus Tower is the founder of Tower Prep.
This summary of Cornelius Tower's past is based on his own account of his life story, which may be questionable, given his love of fiction and hoaxes.
Early life
Edit
Cornelius Augustus Tower was born the son of a wealthy robber baron (even calling himself a spoiled brat), likely in the late 19th century. He had dreams of becoming a novelist, but eventually became obsessed with psychology after suffering the first in a series of nervous breakdowns. He became a psychologist himself, and due to his personal experience with schizophrenia, he was recruited as a spy in World War I. He claimed to have befriended, then shot down the "Red Baron" Manfred von Richthofen. After the war, he sought excitement in a series of careers: as the front man of "Cokie Tower and the Hypnotic 5", a band whose other five members were also apparently himself. Then he became stage magician "Towerdini" who also claimed to use the power of hypnosis and learned the ancient arts of Eastern mysticism, including the Indian rope trick.
Founding Tower Prep
Edit
An unexplored peninsula, the future site of Tower Preparatory, was left to Cornelius by his father after his death had been announced to him within a dream. He turned the land into a "paradise for technological advances and the preservation of all creatures." He gathered rare plant and animal species from around the world there, but the real purpose was to gather human beings with special abilities, apparently to improve and advance some aspect of humanity.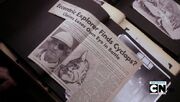 Cornelius created hoaxes such as the cyclops skull to trick people into thinking he was just an eccentric fool, so they wouldn't discover what he was really doing. At some point Cornelius lost his left eye, which he claimed happened on his expedition to find the cyclops. The true story is unknown.
Later, Cornelius was betrayed by unidentified "corporate lackeys" who staged a hostile takeover of the school. He claimed that those now in charge of the school are corrupting his vision, and turning the students into something he didn't approve of. ("Dreams")
Present day
Edit
Upon escaping Tower Prep, Ian, CJ, Suki and Gabe witness a holographic projection of Whisper. She tells them that Cornelius Tower is still alive, and working with Headmaster to restore the school as a positive force. Only seven living people know about Headmaster's true loyalties, including himself, Cornelius, Ian, CJ, Suki, Gabe and one unknown person. ("Fathers")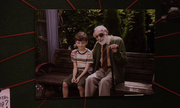 Relationship to Ian Archer
Edit
When Ian first sees a picture of Cornelius, he says he looks familiar. After Cornelius's documents were taken from the observatory, an unknown person (likely Conner Owens) left a final clue on the "What We Know" board: an old photograph of Ian Archer as a child sitting on a park bench with an aged Cornelius Tower. ("Dreams")
Cornelius Tower is not Ian's grandfather, because Ian states that he knows all his grandparents. ("Phone Home")
Both Cornelius and Augustus are names with ancient Roman origins, fitting the repeated use of Latin in the series.
Cornelius claims to have shot down Manfred von Richthofen. In real life, the identity of his killer is a hotly-debated mystery.
Because Cornelius was a spy in World War I (and was a psychologist before that) he must have been born before 1900, which means he was over 100 years old when his photo with Ian was taken, and even older when the show takes place.
It seems that Cornelius was interested in hypnosis. When students are taken to West Campus, Dr. Specs puts headphones onto the student and plays the song "Meet Me in My Dreams Tonight" by Cokie Tower and the Hypnotic 5, suggesting that the song itself might have some kind of hypnotic effect.
The eye he lost is kept preserved in a small block of glass.
This section contains fan theories.
Theories must be logically based on evidence from official sources. Please avoid wild speculation and fan fiction.
All viable theories should be presented; do not engage in arguments or debates here.
Longevity
Cornelius is likely over 110 years old. He may have a supernaturally-extended life span, either due to an ability, or through the use of experimental chemicals created in his labs.
His longevity might just be natural; it's uncommon but not impossible for a person to live over 110 years naturally.
Connection to Ian
Given the fact that Cornelius Tower was born before 1900, he is easily old enough to be Ian's great-grandfather or great-great-grandfather, or he may be an even more distant relative.
The fact that Conner called Ian "my liege" suggests some hereditary connection, because "liege" refers to feudal monarchy, and succession in most monarchies is hereditary.
Connection to Conner Owens
The Indian Rope Trick was used by Cornelius and by Conner in a dream, suggesting some connection.
Community content is available under
CC-BY-SA
unless otherwise noted.