Takahiro Sato

Role:
SatoSystems executive
Played by:
Hiro Kanagawa
First appearance:
Trust
Takahiro Sato is the father of Suki Sato and Shinji Sato. Takahiro is either the sole leader or one of the top people in charge of SatoSystems.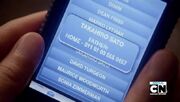 Takahiro Sato is first heard on the phone when Suki uses Shinji's phone to try to call him, but she hangs up without saying anything. ("Trust")
Shinji states that his father ordered the replacement of Whisper 119 due to outside events, later revealed to be the fact that Conner Owens and his group had hacked Whisper's systems. ("Snitch")
Takahiro personally arrives at West Campus to take Suki home, saying that due to her rebellious actions, she is bad for Tower Prep. As he escorts her out with a group of monitors, Suki states that due to his actions revolving around Tower Prep, she disowned him as her father, something that appears to temporarily depresses him. Ian then arrives and fights off his guards. Ian and Suki escape through a door that locks behind them, leaving her father behind. ("Fathers")
Community content is available under
CC-BY-SA
unless otherwise noted.