This article is about the television series. For information about the school, see Tower Prep (school).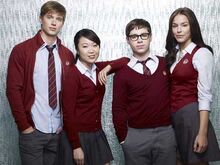 Tower Prep is an American-Canadian live-action television series that aired on Cartoon Network in 2010. The series is created by veteran animation and comic writer Paul Dini and is produced by Dolphin Entertainment and Cartoon Network Studios. The first season consists of 13 episodes and debuted on Cartoon Network on October 16, 2010 before moving to its regular timeslot on Tuesday nights. Tower Prep is Cartoon Network's second one-hour live-action series after Unnatural History.
Main article: List of episodes
The show is created by Paul Dini, who is best known as a writer for comics and animation, including Tiny Toon Adventures, Batman: The Animated Series, the rest of the DC Animated Universe, and the video game Batman: Arkham Asylum. Glen Morgan is the co-executive producer and showrunner[1], who first gained fame along with his writing partner James Wong working on The X-Files. Morgan and Wong also created Millennium, Space: Above and Beyond, and Final Destination. Another notable writer on the show is Glen's brother Darin Morgan, who is known for writing several classic episodes of The X-Files, including the "Clyde Bruckman's Final Repose" for which he won an Emmy.
The show's music is composed by Kristopher Carter, Michael McCuistion, and Lolita Ritmanis, a team that won an Emmy for their work on Batman Beyond and have worked on numerous other DC animated shows.
Created by
Paul Dini
Executive Producers
Glen Morgan
Bill O'Dowd
Paul Dini
Supervising Producer
Darin Morgan
Producer
Peter Lhotka
Cinematographer
Philip Linzey
Series Original Music by
Kristopher Carter
Michael McCuistion
Lolita Ritmanis
Production Designer
Mark Freeborn
Costume Designer
Kate Main
Production Manager
Jim O'Grady
Casting
Robert J. Ulrich
Eric Dawson
Carol Kritzer

Staff Writers
Aury Wallington
Riley Stearns
Development and production
Edit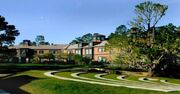 The inspiration for the series came from Paul Dini's own experiences and feelings of alienation when he attended boarding school.[2] Dini is a graduate of Stevenson School in Pebble Beach, California, and many geographical aspects of Tower Prep are similar to the real-life school. Both are isolated from the outside world by deep forests, and both are on a peninsula with cliffs overlooking the ocean. According to Dini, around 2006 or 2007 he pitched the idea to several companies including Bad Robot Productions, with whom he had worked on Lost. The show eventually found a buyer in Cartoon Network approximately two years before the show premiered. The reason the show went to Cartoon Network is because CN was one of the few outlets receptive to a family-friendly, live-action adventure series, because the network was looking to diversify its programming at the time.[3]
When writing of the first season began, Dini and executive producer Glen Morgan had worked out a general plan for the series' story, including possible future seasons.[2] The series was announced as far back as March 2009, using the working title Prepped.[4]
Another proposed title for the series was Castle Prep, inspired by the title of Franz Kafka's novel The Castle, which focused on themes of alienation and its narrator's struggles against mysterious bureaucratic authorities. Eventually, the title Tower Prep was chosen for its connotations (the word "castle" suggested a medieval theme to some people) and, according to Dini, it is also a reference to Dr. Tower, a psychiatrist he saw as a child.[3]
Production of the pilot took place around the summer of 2009.[5] Full production of the series began on April 17, 2010 in Vancouver, Canada.[6]
Cancellation
Edit
For a while after the production of the first season, the show's crew were hopeful that Cartoon Network would order a second season, and the network kept on promising that it might happen. However, the network ultimately did not order a second season.
According to Paul Dini, this was partially because the series was relatively expensive to produce and did not garner high enough ratings. However, he believes that the main problem was that the network initially chose to venture into live-action programming for boys (which is why Tower Prep was produced in the first place), then quickly backed away from those plans after the runaway success of Adventure Time and Regular Show. Seeing live action as a "failed experiment", the network then tried to bury its live action shows as quickly as possible. He also believes that the show was not promoted well by the network when it first aired. Cartoon Network controls all rights to the show and has shown no interest in allowing the story to be continued in any form, including books.[7]
What would have happened
Edit
In a 2013 podcast episode, Dini revealed a little of what might have happened if the series continued. As many as five seasons were planned.
In overview, the series would have been about the kids teaming up with Headmaster, who was supporting Cornelius Tower's altruistic goals. The school was meant to be a place where those with special gifts would be trained, then sent out into the world in secret to help guide mankind toward a better future.
Headmaster had feared that evil people were corrupting the students in Tower Prep, which is why he brought Ian to the school. Ian's preflex ability would help him be "one step ahead", and find and root out the "bad" students, which Headmaster hoped would lead to the source of the corruption.
Season two would start with the kids returning to Headmaster's office, after learning that Headmaster was a good guy. However, while Headmaster was unconscious (after being knocked out at the end of season one), he would have been taken captive by mysterious men and replaced with an identical double. The double would have betrayed the group, sending them to West Campus. With their memories erased by Dr. Specs, everyone would be put back into the school. Ian would become the leader of the gnomes, tasked with capturing other students who were trying to escape. Over time, the characters would start to remember or rediscover the truth. Redfang, the Broken, and Cornelius Tower would also have more appearances.
Another permutation of the idea would involve a time skip, with the second season being "season three", picking up one year later. This would have helped explain why the cast looked older, if production of the next season was to have started after a significant delay.
References
Edit
External links
Edit
Interviews
Edit
Community content is available under
CC-BY-SA
unless otherwise noted.